Sunday, January 31, 2021
Desperado
Still the ringmaster
From the pen of Bart van Leeuwen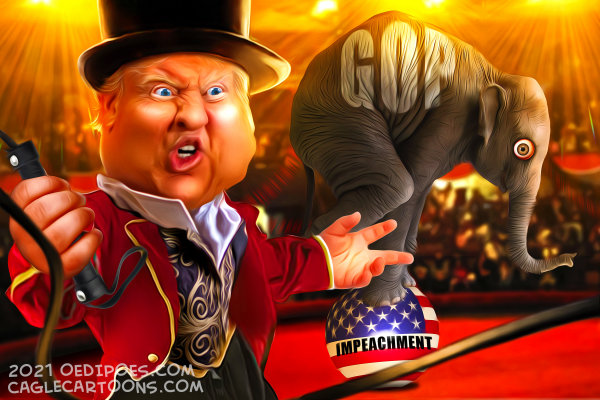 A bad marriage
Proud of their new member
See! She didn't escape
Weekend Update
What Still Works
First things first !
See the difference ?
New game in town
The Fraidy-Cat Five
On His wrong side
Equal right
Saturday, January 30, 2021
When You Wish Upon A Star
The New Devolved Republican Party
Faster than shit through a goose
Dangerous Mutation
The Georgia Two-Step
Vaccinating America
How political progress really gets done
Worth remembering
Healing a tumor means cutting it out
Jewish, not Frickin', Lasers
They got Capone on taxes
Friday, January 29, 2021
Mercy
The Party of Trump
Not a great defense
Needs a much shorter leash
Truth in Politics
Republicans in the Minority
It can not be said too often
Fitting end
The heart of the GOP
Baffled by progress
The Kool-Aid Kidz
Thursday, January 28, 2021
Capable
One of Joe's Lesser Problems
GOP Fix It
Don't mess with his spawn
The Great Divide
Seeking escape from Justice
Is this the end of Rudy ?
The Whiny Collapse of the GOP
No more orange nightmares
We can not afford to fail
Poseurs
Beyond comprehension
DeJoy was also DeGrinch
Wednesday, January 27, 2021
Long Time Gone
The Republicans have a big rug
Dividing responsibility
When you want it enough
The snakes on the GOP plane
He will be missed by some
The Dogs are back
Wise words
Lot of likes
Frankie gets it
A small group of evil people
Got to do it
Tuesday, January 26, 2021
When Will I See You Again
Dueling Freedoms
Putin the Blame Where It Belongs
Not like they are hiding it
Subscribe to Posts [Atom]